Choosing a Home in Camellia Gardens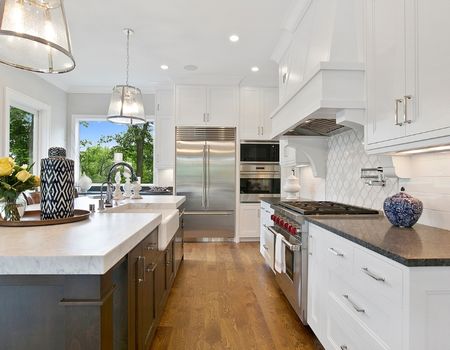 Camellia Gardens is one of Harrisburg's newest subdivisions for single-family homes. This collection of 95 single-family homes on 44 acres is set among lush green spaces, historical landmarks, and beautiful nature trails. These single-family homes built by Empire will start in the $400,000 range.
Construction at Camellia Gardens started in 2020 by Empire, a builder that has created unique designs throughout the industry since 1993. They currently are in two countries, six regions, and have built over 90 communities with 28,000 homes under their belt in the past 25 years.
Their philosophy is that no two households are the same, which is why no two homes should be the same. Your house is more than simply a place to house your stuff but a home to house your family. They care about more than the four walls but celebrating life and creating memories as well.
Empire's Smart Homes
Smart homes is where it's at these days. Empire construction understands changing and adapting to today's buyers needs. They are committed to making the lives easier of each homeowner with more intuitive, smart construction. Each of their homes in Camellia Gardens features energy-efficient products, home automation systems, and technology that seamlessly fits into each individuals day today dealings. Eero Wi-Fi offers multiple access points for consistent Wi-Fi throughout the home. Amazon Echo Show allows homeowners to watch music, stream music, and even look up recipes through voice controlled automation. Homes can come with the Ring a Pro Doorbell for security and extra motion detection. Garage door connectivity and pro-smart thermostats are also included in a lot of homes. Electronic locks, IDevices wall switch, Cat6 Wiring and more all make Empire homes some of the most technologically advanced houses on the market.
Location
Camellia Gardens is located just off of Stallings Rd. in Harrisburg, south of Highway 49 across the street from the Stallings Rd., Park and tennis courts. It's just seconds to the Publix supermarket at Harris Square, shops, restaurants, markets, convenience stores, and more just a few minutes away.
The Hickory Ridge High School and Middle School is also on the backend of the community and Harrisburg Park and field are just down the street. It's an ideal location close to shopping, schools, access highways and more.
Building lots will have a minimum of 8500 ft.² with a minimum lot width of 65 feet. The 25 foot landscape easement will be provided and all roads will feature sidewalks, planting strips, and trees.
For more information on homes for sale in Camellia Gardens, Harrisburg's newest subdivision, browse any and all listings below or contact my office when new homesites or move-in ready properties become available. Or start here for all Harrisburg NC homes for sale.