Are you considering buying one of the beautiful new homes for sale in Charlotte? There are many benefits of buying a new construction home in North Carolina, and a variety of developments in the Harrisburg, Charlotte, Concord, Midland, Huntersville, and University City areas. Before buying a new home, there are a few questions you should ask to make sure you are finding the ideal property for you.
The first step in any successful home-buying experience is working with the right professionals. We would love to help you find your ideal home, so contact us to learn more!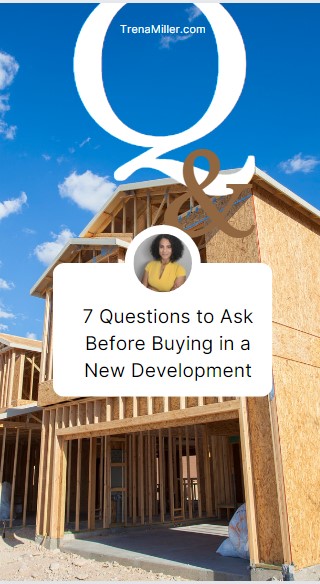 As you consider your options for new developments and builders in the area, keep these questions in mind. 7 Questions to Ask Before Buying in a New Development
1. How long has this builder been in business?
Find out how long the builder you are considering has been in the business, and get an idea of their reputation. If we have worked with them before with previous clients, we will be happy to share our expertise!
2. How much customization is available?
Each new home builder will offer varying levels of customization. This might include a choice between two interior color palette and a few appliance packages, or a semi-custom home build where you can modify the floor plan, finishes, and features of the home to make it totally unique. More customization usually means a wider range in budget and can provide the best opportunity to purchase a home that is exactly what you are looking for. A less customizable home is generally going to be available more quickly, and for a more predictable price.
3. What is included in the new home?
When you buy a new construction home, some things that you would expect to be included may not be. Ask your builder whether they include:
Landscaping
Fencing
Window coverings
4. What will the neighborhood look like when completed?
If you are one of the first to buy a home in this development, it may be hard to envision the finished product that is planned for the community. Ask for more information about plans for community amenities, green spaces, layouts, and any future plans for other phases of housing. Any maps or 3D renditions of the neighborhood will help you envision yourself living in the community when it is complete.
5. What will the HOA fees be?
Most new developments will be managed by an HOA, so find out what the HOA fees will be, when they will be due, whether they will be allowed to be raised, and what they will cover.
6. What is the building process?
Each home builder has their own building process, so find out what this home builder's is. It will usually include an order or planning, finance check-ins, one or more walk-throughs of the home, meetings with designers to select upgrades and finishes, and maybe a few other checkpoints along the way.
7. Can I see a completed home?
Ask your builder if there are any complete homes you can tour in addition to model homes. In general, the model homes will show the top-of-the-line finishes and upgrades, so touring a completed home somewhere else in the neighborhood will provide you with additional perspective about the quality of the builder's work and how a typical home in the neighborhood looks when completed.
Want to learn more about new developments and homes for sale in North Carolina? Or if you have more questions, Contact us any time.  Call me for more tips if you plan on selling your home in the future and what DIY projects can really offer a good bang for your buck! For more information on moving to Charlotte, browse our website. I work the entire Huntersville real estate area, University City homes, Midland Properties and Harrisburg and Concord real estate.